Urban Prints were pleased to be the Official T-shirt Printers of the first ever Worcester Comic Con. We also offered the authorised Worcester Comic Con T-Shirt and Hoodie. It was an amazing event with a fantastic turn out. There were about 100 traders offering a range of wares. We were in good company with the likes of Hide N Geek and the impressive Black Cat Models.
Darth Vader with his Worcester Comic Con T-shirt
We were privileged enough to be able to present the mighty David Prowse with a Con T-Shirt. An XL obviously. The chap did used to be a bodybuilder after all. He still looks in good shape! Thanks David for making the Con extra awesome.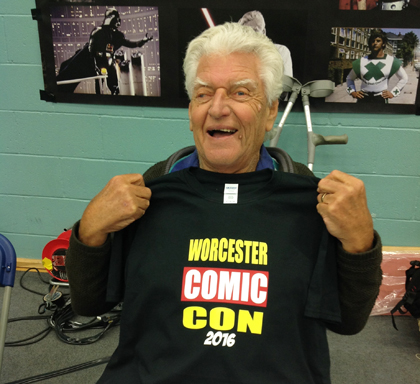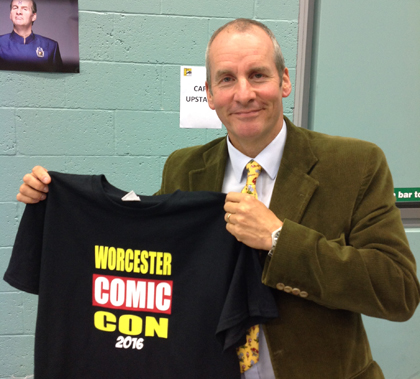 Arnold Rimmer with his Worcester Comic Con T-shirt.
It was an honour to print a T-shirt for Chris Barrie – AKA Rimmmmmmmmer. A thoroughly nice guy to have a chat with and a true gent.
If you've been a bit of a 'smeghead' and missed out on buying the Comic Con 2016 T-shirt, don't worry. Contact us and we will print one just for you and deliver it. It's not too late, you haven't missed out!
Prints on a range of Garments
The Comic Con design was available on a range of garments. We printed on Unisex Adults, Ladies and Kids T-Shirts. Hoodies were also available in Adults and Children's sizes. A few guys requested white T-Shirts so that they could get them signed – good idea!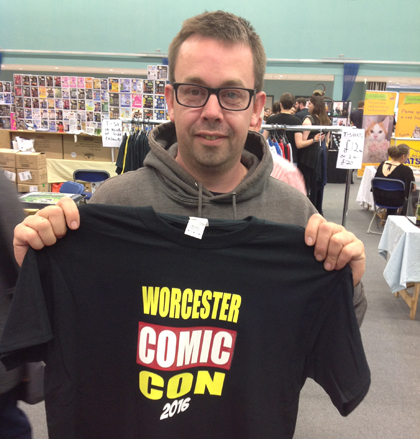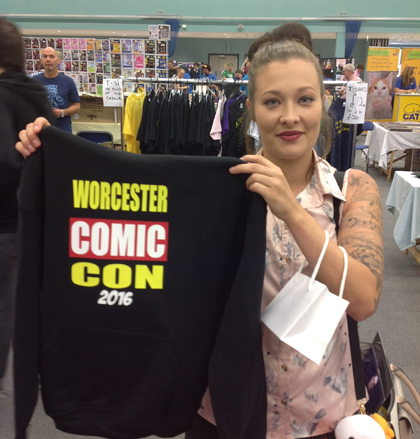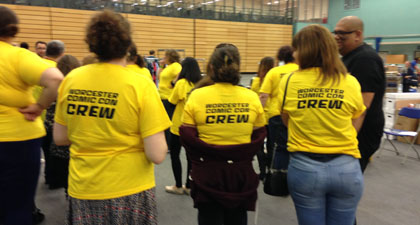 Printed T-Shirts for the Comic Con Crew
Urban Prints also printed the T-Shirts that the Crew wore for the Worcester Comic Con. We printed onto supplied T-shirts that the organisers had already bought. The crew really stood out in there bright yellow T-shirts.
A few of the T-Shirt designs that we printed on the day.
Do you need custom T-shirt Printing
If you need T-shirts printed for any purpose – let us know. We specialise in short runs of custom printed T-shirts, Hoodies and Polo Shirts. We print for Charities, Businesses, Clubs, Societies and individuals.
Make an enquiry today and get a price quote now.